Track Meet
I hope that  everyone had an amazing time at the Track Meet this past weekend.  The students did amazing with all of their events.  We will hand out all of the ribbons this Wednesday after chapel.
 School Calendar Updates
Below are some calendar updates as we near the end of the school year. 
May 22nd

– School Students Sing at Church – 9:00 Service
                                                                           

June 2nd

– School Play                                                                     

June 3rd

– Last Day of School – Dismissed at 12:00 – Beach Party in the Evening
Thank You!!!!!
On behalf of the entire faculty, I wanted to say a huge "THANK YOU!" to everyone for how generous the school families were during Teacher Appreciation Week.  We were blown away by all of the gifts and food.  Thank you to everyone who helped coordinate, make donations, and deliver food.  We love to serve at SOTH and are thankful for all of our students and school families.
School Play
We are planning our final school event for the year which is our School Play which will take place on Thursday, June 2, at 6:30.  All students from K-8 are encouraged to participate.  If your child is unable to participate, please let their teacher know so that we can plan accordingly.  
 Children Singing in Church
On Sunday, May 22, the school children will be singing for our 9:00 church service at Shepherd of the Hills.  They have been practicing and looking forward to this opportunity.  We ask that all of the students are able to attend.  If you can't make it, please let your child's teacher know.
The students can sit with their family, and Pastor Boehm will call them up to the front of church when it is time to sing.
 Congratulations!
Congats to our students that placed in our Meet Math competition. Throughout the year our 5th-8th grade class compete with other schools around the country in mathematical problem-solving.  Our 7th grade math team placed second place overall among other 7th-8th grade groups!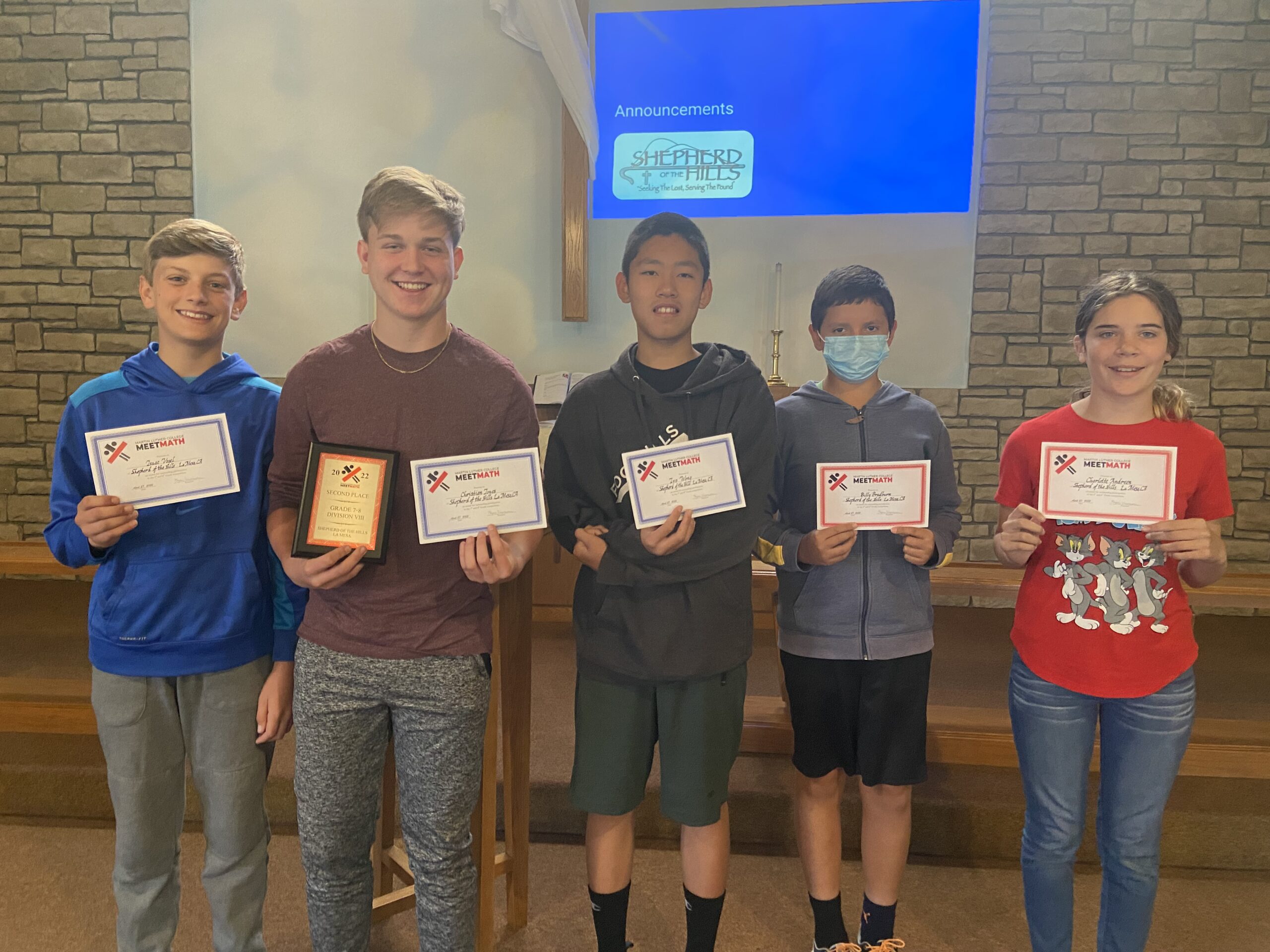 Good Shepherd Bible Camp
All students entering grades 4th and above are invited to attend Good Shepherd Bible Camp which is a week long camp in Big Bear during the week of July 10-16.
Here is link to the website which will have more information and registration.  They are always looking for volunteers if any parents want to come along with their children.  If you want more information, you can talk to Pastor Boehm or Anna Vogel, or our local Bible Camp cheerleader, Judith Vogel. 
Wednesday – Family Bible Study
For the Wednesdays in May, Shepherd of the Hills is hosting a Wednesday family Bible study where families can spend some time in the Word, and we want to invite all of our school families. The children will learn a Bible lesson followed by possible crafts and activites.  Adults will meet together to study a section of Scripture.  A meal is provided at 6:00, and the Bible study starts at 6:30.
Hope to see you there.